Updated Pictures
This is a postcard I have with Bobby Steele's signature on it. It is from a friend. Is it real? I would like to delude myself, but I am not sure, honestly, but it is a nice thing to have up here.
---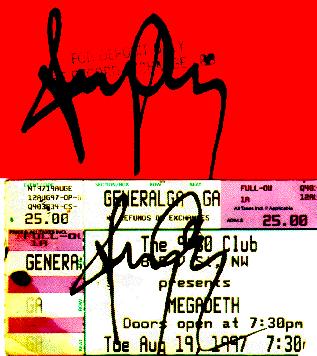 Yes, to answer all questions, I DID have to pay 25.00 to see the Misfits. They opened for Megadeth. But, I didn't really watch Megadeth, I sat outside and met the Misfits. The top ticket is the Misfits show in Roanoke. I met the band again there. (And I add on the sly, that Jerry Only kissed me on the cheek at that show). He was the only one really willing to sign autographs and pose for pictures, the rest just wanted to go backstage or something.
---
This is the CD cover of the import CD. (Title mentioned above). Also, the back is shown below. Okay, well, I have to get the picture fixed to have the bottom shown. (Silly women and computers!) As soon as I can work out MP3's, or some form of audio that sounds good, will have some clips of some music off of this CD, also I will have the infamous Glenn saying he is gonna kill Bobby Steele. Sweet!
This is the shocking postcard that the Misfits sent out to all the fiends to announce their return to the world. This postcard has the dates for their Resurrection Tour and some Frightening Facts. Which included information about their new singer Michale (or Michael, I have seen it spelled many ways) Graves. Although this page mainly reflects the Misfits from 1977-1983, I must add some newer picture stuff because well, you gotta work with what you have.
Soon to come, pictures of cassette covers from Walk Among Us and Earth A.D. As well as the interesting CD artwork ftom the Kill Your Baby CD. I will try and work on that audio soon, I promise.
---
SEE LEGALESE
NON FRAMES CLICK HERE
If you are in frames: use navigation bar at the left.