Well Fiends- I have a scanner- the funny thing is that I have a scanner, but it is at home, and I am at school. However, I have some great interesting pictures that I am going to put up. This will be done in about a week. (I kinda have to get an education also!) The fact that I own my own scanner makes it easier to scan stuff because I tend to break the computers at school.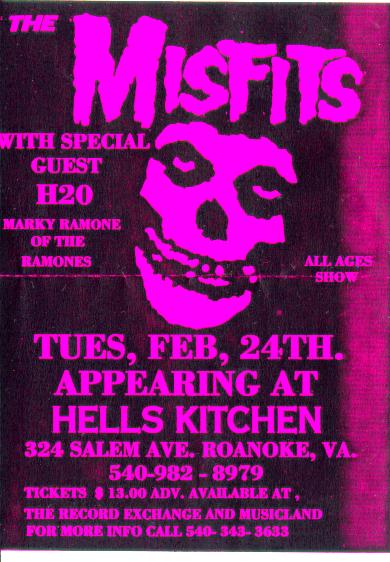 This is the little flyer the Record Exchange in Blackburg, VA gave us when I bought my ticket to the show. This was the first show on the tour and it was awesome. It's funny, but the tickets were sold in 2 stores and they were about 1 hour from where the concert was held. Actually, I really don't think it is funny, cause I am just pretty damn glad I got to go to the show. The pink matches well!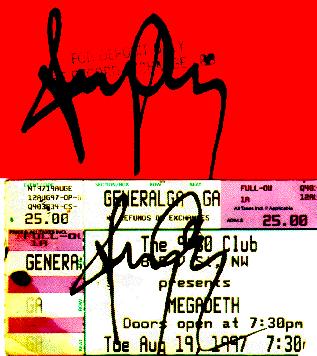 Yes, to answer all questions, I DID have to pay 25.00 to see the Misfits. They opened for Megadeth. But, I didn't really watch Megadeth, I sat outside and met the Misfits. The top ticket is the Misfits show in Roanoke. I met the band again there. (And I add on the sly, that Jerry Only kissed me on the cheek at that show). He was the only one really willing to sign autographs and pose for pictures, the rest just wanted to go backstage or something. A little side note to Mr. Know it All (and he knows who he is)I have changed it, are ya happy now- can you sleep tonight since you didn't get much sleep the other night? Hahaha.
---
SEE LEGALESE
NON FRAMES CLICK HERE
If you are in frames: use navigation bar at the left.